| | | |
| --- | --- | --- |
| | | |
| Filipino By Blood | American By Birth | Californian By Marriage |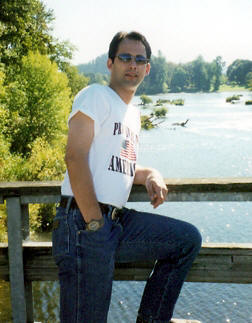 I was born in January of 1970 and adopted at the age of 5 months. I was raised and grazed in the podunk town of Madras Oregon. In my adopted family I have two older brothers, one sister, one step brother, one step sister and. From my birth family I have one half brother on my birth mothers side. My birth father died when I was only 11 months old, however his father, my Lolo is still living in Texas and recent got re-married at the ripe young age of 84. In addition I have one adopted father and three mothers, my birth mother, my adopted mother and a step mother.
My wife is also adopted and has two mothers and two fathers, however one of her fathers has passed away. So lucky me, I have 5 mothers!!!
My wife and I have three children all of them boys. To answer the next question, that invariably is asked. We are not having any more children.
I attend high school at Madras Senior High School where I participated in many activities including Band, Choir, Future Business Leaders of America, Track, Cross Country and Wrestling. I guess my biggest accomplishment was that I never missed a day of school since the second grade where I was out several times with Strept.
While in high school, I attended night classes through COCC to become an EMT. I became certified shortly after turning 18. I worked as an EMT for the Jefferson county EMS until I left for college and, after college, volunteered with the Warm Springs Fire and Safety as a Fire-Medic.
After high school, I attended Lane Community College where I got a degree in Criminal Justice. From there, I worked for the Confederated Tribes of the Warm Springs Indian Reservation of Oregon for seven years. I started out as a Parole and Probation Officer. From there I worked for the Warm Springs Police Department until I got a job with the Bureau of Indian Affairs.
In 1998, I decided to return to school and further my education. On June of 2000, I graduated from the University of Oregon where I obtained a B.S. degree in Sociology and a B.S. degree in Ethnic Studies.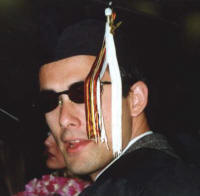 While at the University of Oregon I was involved with several organizations which included the Asian Pacific/American Student Union, the Kultura Philipinas, and the Native American Student Union. I was also part of the Associated Students at the University of Oregon where, as a member of the Executive Staff, I oversaw all the cultural and diversity groups on campus.
After college I worked on a grant project as a Permanency Mediator where I helped to decrease issues in interstate adoptions and develop an adoption clearinghouse.
Just before I graduated, I was able to obtain a copy of my pre-adoption birth certificate and through the use of the internet I was able to get in touch with my birthmother's sister, aunt M.E. After conversing with her and shedding tears on both ends, we decided to contact my birth mother Lynn to let her know about me. After talking and E-mailing we decided to meet in in person in Las Vegas. While in Vegas I was able to meet my half-brother James and his wonderful wife Suzie.
Lynn wasn't sure of my birth fathers name but was able to give me a phonic sound of it. At one point she told me that his family was coming to California from Texas and that is when it hit me. One thing I have learned about many Asian-Americans is that they don't move a whole lot. This then gave me a smaller place, if you can call Texas small, to search for him.
I was able to locate someone with the same name as Lynn had given me and in talking with her, she mentioned that she had a friend in the same town and would call her up and have her check it out.
Upon making contact with this person it became quite clear that this was not my father as this person was 83 years old and had just returned from his honeymoon. Fortunately for me, it turned out to be my Lolo, tagalog for Grandfather. Shortly there after I was reunited with my birth fathers side of the family.
As I soon discovered, my grandpa had two other brother who along with my grandpa were captured during WWII and forced to march in the Bataan Death March. Sadly my grandapa was the only one of the three to survive. While his wife bore him seven daughters, she only had one son, who was my father. My father served as a captain in the US Air Force and during the Viet Nam war was killed when the jet he was in malfunction.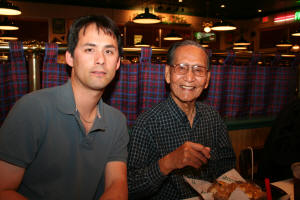 Since my grandpa was the only one let with the Arzaga name, I, along with the support of my adopted parents, decided to change my last name to add Arzaga. This way our family name could continue through me and my three boys. As a side note, getting your name legally changed is not a cheap endeavor.
After the grant funding for the Permanency mediation job ran out I decided to move to San Diego California where one of the seven sisters, Lily, lived. Shortly there after Tess and I got married and started our family which consists of three makulit boys.
Currently I work from home as the president of Stay at home Dads when I over see three boys. In addition to being a stay-at-home dad, I run my own my business, Snoopy Dude Graphics and Web Design. I am heavily involved in the Filipino community in San Diego and belong to several community groups. I also enjoy photography and freelance for several of the Filipino Newspapers.