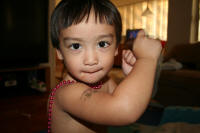 My name is Jonathan but I go by Jon Jon, mainly because that is what my parents call me. Sometime I go by Kenny who is the Blue Power Ranger. Along with my Kuya Jun-Jun aka Tommy the Red Power Ranger we rid our house of any bad monsters and an occasional daddy who doesn't listen to our demands.

My favorite shows, beside the Power Rangers is Dora the Explorer and Diego. I also love to play video games on my dads Wii and X-Box. I have my own v-tech game system but daddy's is much funner to play on.

I also enjoy playing games on my 'puter and watching shows on Nickjr.com. I also enjoy drawing, except on the wall, which my dad hates and gets on my case when I do it.

Although I am a year younger than Jun-Jun we are close to the same size and people often think we are twins.